Presentation by Rex Marfleet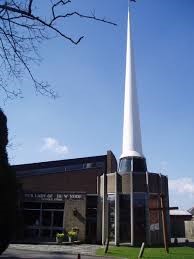 In September my wife and I went on a cruise down the River Rhine through Germany. Each late afternoon the Tour Director would give a slide presentation on the things to see and do at the following day's destination. On the 4th day he said "I am sorry Ladies and Gentlemen but tomorrow is yet another ABC day". Everyone looked blank. He asked if anyone knew what an ABC day was. Nobody did. It's means Another Blinking Church. He didn't say blinking but you've got the drift. It also works for Cathedral and Castle and there are plenty of those too.
Anyway, if any of you have ever been to Germany you may have noticed that all the churches are in marvellous condition. This is because they have what is called the Kirchensteuer or Church Tax. If you work, and are a registered worshiper, of whatever denomination, 8% in 2 of the southern states and in the rest of the country, 9% of your salary is deducted at source and goes to the church. Very different from here, of course, where we rely on people's generosity.
Whilst we do not have any tax money coming in, we do have tax money going out in the form of the Diocesan Levy which means that 28% of your offertory donations go to the Diocese and we understand that this is going to increase from 1st January. However, donations to the church building fund today will not subject to this deduction but following a recent decision they will be, from 1st January. Great news.
Earlier this year we said we would start a Church Building Fund and have about 10 collections a year. However, on reflection we thought that this, on top of all the other second collections, to which you already give so generously, would be too much of a burden. So, today is our first appeal and we will only have 3 or 4 a year.
Today's appeal, is specifically for the church front door. The current door is in a parlous state. Only one of the two doors is really serviceable. The locking mechanism is completely broken and the doors have to be locked with a strong link chain wrapped around the handles and secured with a padlock.
As we are a grade 2 listed building, we had to apply to the Church Historical Society, for permission to replace it. We advised them, that we wanted to remove the existing aluminium and glass frame and door and install a modern, painted, double-glazed unit, on a like-for-like design basis. They came back, rather surprisingly, with the suggestion that door be located in the centre of the unit, rather than as it is now, on the left-hand side as you exit. We replied that this would mean that we would have to relocate the piety stall, which would cause us a problem. Anyway, they relented so we are ready to go ahead. The cost, after we have reclaimed the VAT, will be £6150 and all your contributions today will be towards that project.
Gift Aid. You will have noticed envelopes and pens at the end of the pews. So, if you able to donate towards our new door and are already registered for Gift Aid would you please use the white envelope.
If you are not registered but would like to Gift Aid your donation today please complete and use the Blue and white envelope. If you wish to donate without Gift Aid please just place it, in the baskets at the exits and would those using the envelopes also use baskets too. Gift Aid gives us an extra 25% on top of your donation, so if you are a tax payer please do consider using the envelopes. If you wish, you can take an appropriate envelope home with you and bring it back with your donation next week
We really do need a new front door, so thank you in advance for your generosity and also for listening.
Update January 2020
To date £9,343 has been received (donations £7,717 + £1,626 Gift Aid). Thank you for your generosity. Work is scheduled to commence shortly.